GANXIN 12 INCH 3 DIGITS SEMI-OUTDOOR LED CLOCK WITH COUNTUP, COUNTDOWN, STOPWATCH, REMOTE CONTROL

---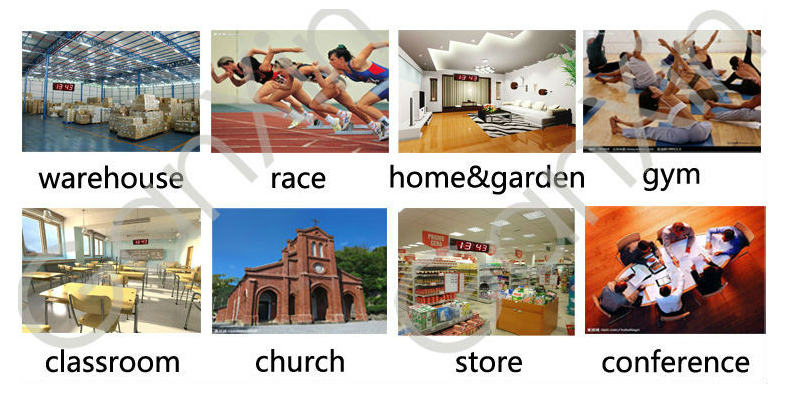 Led Counter, day counter , hours counter, mins counter, seconds counter, display counter,counter display ,digital counter
Ganxin GO3D-12R 12 inch 3 digit red thermometer
Brief Description of the product
Product name
Indoor 12inch led sports timer
Model : GO3D-12R
Usage environment: outdoor use
Display format: 555
Display color : red
Character height: 12inch
Display function (optional) : Number,countdown,countup,queue number
Screen size(L*H*D): Appr. 80*40*6CM
Net Weight: 8.5KG
Note: functions are optional ,pls leave us a message indicate which function needed.
Also pls contact us for further discussion if you have special function requirements
Technical Specifications
functions

function (optional) : Number,countdown,countup,queue number

Parameters

Usage of the environment:outdoor

Brightness: high brightness

Height of character: 12 INCH

Display color: Red

Display Format:555

overall structure

1, Frame: Steel (black)

2, Faceplate: Display window covers PVC glass

Technical norms

1, Time format: 24hrs or 12 hrs
2,clock precision Less than 2 seconds on a daily basis

3.power supply AC110-250

Operation

Remote control

Certification

CE & RoHS
Product & Accessories
Timer x 1pcs
Adapter x 1pcs
Remote control x 1pcs
Brackets x 1pair
Bolts x 1pair
Product photo
Handing time
Every time we get the order, we are urging to deliver immediately. However, due to the assembling procedures, we have to remain 3-5 working days to assemble, aging and test before we could forward it to you. So I hope you can understand our situation. It is very important contact us before you buy if you need the item urgently so that we can avoid to bring a trouble on your timing line.
About shipping
We are using courier like DHL, UPS, TNT, and FedEx or EMS to ship the item. If you need use a special courier, please let me know when you are buying. The international courier normally takes about 5 working days before you receive. Sometimes it also takes a longer time like 7 days or 10 days. So, if you still not get your item after our delivery in 10 days. Please do contact us. We will find out what is going with the issue.
Return, Refund & Warranty Policy
1. Returns: Please notify us within 7 days from the reception of the item for a full refund
1) returns for any other reason than defective or damaged the product. Shipping fee will be deducted (including the shipping fee offers)
2. Refund: 30 days money back guarantee
1) Customers are responsible for return due to any other reason than defective or damaged the product.
2) We will make the full refund if the item has an irreparable problem.
3) All returns must be notified within 7 days from the reception of the item.
4) The items must be returned at original condition with original package. Any extra damages occurred during the return due to lack of packaging will be deduced from the refund.
5) We only refund after we receive the returned item.
3. Warranty: 1 year full warranty+ two year extend warranty